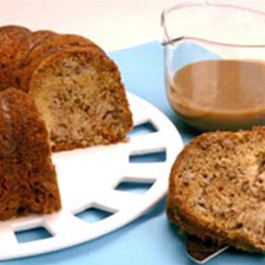 Courtesy of Wheat Foods Council
Servings: 24
Prep Time: 15 Min.
Cook Time: 1 Hr.
* 3 large eggs
* 2 c. sugar
* 1 1/2 c. canola oil
* 2 tsp. vanilla extract
* 3 c. cake flour
* 1 tsp. salt
* 1 tsp. baking soda
* 3 c. apples, chopped and peeled (your choice)
* 1 c. pecans, dried, unsalted, coarsely chopped

Caramel Sauce:
* 1/2 c. margarine or butter
* 1/4 c. fat-free milk
* 1 c. brown sugar, packed
* pinch of salt
1. Preheat oven to 350°F.
2. Grease and flour Bundt™ pan, set aside.
3. In a mixing bowl, beat eggs until foamy; gradually add sugar; blend in oil and vanilla.
4. Combine flour, salt and baking soda; add to egg mixture. Stir in apples and pecans. Pour into Bundt™ pan and bake for one hour or until cake tests done.
5. In a medium saucepan, combine all caramel sauce ingredients; bring to a boil for 3 minutes, stirring constantly. Remove from heat; set aside.
6. When cake is done, let cool in pan for 10 minutes on a wire rack. Remove cake to platter; slowly pour caramel sauce over warm cake and serve.
Calories: 360;
Total Fat: 21g;
Saturated Fat: 2g;
Cholesterol: 25mg;
Total Carbs: 42g;
Fiber: 1g;
Protein: 3g;
Sodium: 200mg;