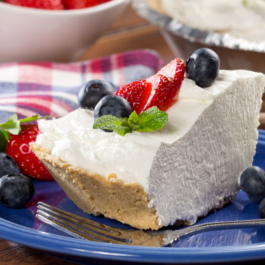 Courtesy of Mr. Food Test Kitchen
Servings: 6
Prep Time: n/a
Cook Time: n/a
Chill Time: 4 Hr.
* 1 (8-ounce) package cream cheese, softened
* 1/2 c. sugar
* 1 c. (1/2 pint) sour cream
* 2 tsp. vanilla extract
* 1 (8-ounce) container frozen whipped topping, thawed
* 1 prepared 9-inch graham cracker pie crust
1. In a large bowl, beat cream cheese until smooth. Gradually beat in sugar, then blend in sour cream and vanilla. Fold in whipped topping until well mixed.
2. Spoon mixture into pie crust.
3. Chill 4 to 5 hours, or until set. Keep refrigerated.

Recipe and Image from the Mr. Food Test Kitchen
© 2018 Ginsburg Enterprises Incorporated. All rights reserved.